Yes, Numatic has finally released a cordless stick model (called the Henry Quick) for small space dwellers or anyone who doesn't want to lug a canister model up their staircase a couple of times a week. I was sent this vacuum around two months ago to review in my two-bedroom flat that I share with my dog and my husband (not sure who is messier, tbh). When I say it has changed my life, I truly mean it. The Henry cordless vacuum offers incredible suction power at a slice of the price tag of other vacuums I've tested, not to mention that it's so easy to use. Its battery life is impressive, and along with that, it works well to pick up pet hair. There's really nothing it can't do...
I recently added it to our best vacuum cleaners guide as our #1 pick, unsurprisingly, and since they've been selling like hotcakes. If I am being honest: It's going to be hard to beat at such an affordable price tag of £300, but for now, I have given it to my parents and I am working my way through my next vacuum review. I will say that it does have the dad seal of approval, as my parents are very happy going from their older Dyson to this. Just sayin'...
TLDR: What we thought of the Henry Quick
The Henry Quick impressed us in more ways than one. I reviewed this stick vacuum in a busy pet-friendly household and it performed time and time again when it comes to collecting pet hair, cleaning crumbs and also sucking up the abundance of dried flower petals, day in and day out.
I found this vacuum to be impressive when working on both hard floors and rugs. Its suction is incredibly strong for that of a stick model, and it offers a long battery life of 70 minutes so that I didn't have to charge it after each and every use. I can get around my house three times before needing to repower. Otherwise, just like its much larger cousin, this Henry vacuum is simple enough to use with one main mode, as well as a boost mode on offer.
I enjoyed using the two tools that came with this vacuum, for cleaning everything including my sofa, the dog's bed, my velvet headboard, and my skirting boards. When it comes to emptying, this vacuum is bagged to make everything a little easier. Its bag has a surprisingly spacious capacity and you'll be able to go weeks and weeks before changing it. Overall, it might be one of the most impressive stick vacuums we've ever used.
Don't confuse the Henry Quick (HEN.100) with the Henry Cordless HBV 160, a cordless cylinder vacuum we've also reviewed.
Testing the Henry Quick
Reviewed by
Reviewed by
Annie is our head ecommerce editor at Real Homes and she has been testing products for the website since 2018. Whether it's a vacuum cleaner, an air fryer, or even a BBQ, Annie is sure to be thorough in her testing methods, and in the case of the Henry Quick, it has been used daily for approximately six weeks in her two-bedroom flat.
Numatic gifted Annie this vacuum and she has been allowed to keep it with the intention of updating this review the more she uses it.
The techy stuff
• Model number: HEN.100
• Weight: 3.2kg
• Noise: 77dB
• Power: 25.2V
• Runtime: 14 mins to 70 mins
• Charge time: 150 minutes
• Power modes: Normal, Boost
• Dimensions: W24cm x L27cm x H122cm
• Bin capacity: 1L
• RRP: £299.99
• Colours: Red, Graphite, Pink
• Accessories: Crevice Tool, 2-in-1 Combi Tool
Unboxing
The Henry Quick arrived in a neat, compact box with a handle for easy carrying. Inside the box sits everything you need to get going, including 26 pods that come free. We were extremely impressed with the packaging as more or less every part was wrapped in recyclable paper or cardboard. The only plastic was a small bag that holds the screws you need to mount the vacuum's bracket to the wall.
After unboxing the vacuum and splaying its parts and accessories out on our sofa, we then recycled the box and all of the packaging in our outside bin. Easy peasy!
Setting up this vacuum is a doddle, in fact, you needn't do much other than glance over the instructions briefly to know what you are doing. It even comes with a dust bag already inside for you. All we will say is that you'll want to put the battery straight on charge as it will be running low. This way, you can really go to town on your first use.
Otherwise, you need only click the parts together to get going. Much like all other stick vacuums, this one is in three parts. Just attach the wand to the vacuum itself, and then the brush roll to that, to start vacuuming your floors.
How to use the Henry Quick
The Henry Quick couldn't be easier to use. You needn't even hold the trigger whilst vacuuming. You only need to press the power button and you're off. Here's what the other buttons do:
Plus button: This gives a power boost wherever you need it. Great for spillages or for use on thicker pile rugs. Avoid this mode on carpets as it offers a little too much suction.
Arrows button: Press this to switch the roller brush on and off. You might want to switch this off when vacuuming certain soft flooring spaces, depending on the pile of your carpets and rugs.
The control panel on the Henry Quick is fairly easy to understand. There are three lights that sit surrounding the power button and these display the vacuum's battery life and its charge status when plugged in. The light directly opposite the power button is an indicator that you need to change the pod, or it will signal if there is a system blockage.
Using on hard floors
The long and short: Use the Henry Quick on hard floors with Boost Mode on for a more thorough clean. Turn the roller brush on or off depending on your personal preference, but having it off means that the LED light will turn off.
My entire flat has hard flooring, so it was imperative that the Henry Cordless vacuum could cope with cleaning up messes on hard flooring. It's able to do that rather impressively and fast. No matter what mode you have it set to or whether the roller brush is on or off, the vacuum works well on hard floors. It's pretty much down to personal preference and how much battery you want to use, otherwise.
Depending on the time of day, I use this vacuum cleaner in different ways. If I am cleaning and it's light outside, I'll turn the roller brush off. If I haven't cleaned my floor for a few days and it's looking like it's in need of vacuum then I'll turn on Boost Mode. Otherwise, if it's dark and I am vacuuming at night, I like to have the roller brush turned on with the LED light. If my floors don't look dirty and I am doing a clean before we have people coming over, I will just use normal mode to preserve battery life.
When using this vacuum on my hard floors, it does an incredible job of sucking up everything the first time, whilst its LED headlight makes it 10 times easier to see the dirt and dust on your floors, and it helps steer you in the right direction.
The only thing I will complain about when it comes to using the Henry Cordless vacuum on hard floors is that it's not the best at moving from one surface type to another. I have to pick it up to go onto a rug or it slips underneath. The same goes for tiles — it needs a little help switching from one surface to the next. Just something to consider if you are less able or if each of your rooms has a different floor type. For me, I have laminate running throughout, from the front of my house to the back. The only room I have different flooring is the bathroom, and I have rugs everywhere for comfort.
Using on carpets and rugs
The long and short: Use the Henry Quick on carpets and rugs in normal mode.
When using the Henry Cordless vacuum on soft flooring such as rugs, it's a different kettle of fish. Surprisingly, I found that you definitely want to use this vacuum on normal mode as it works better. On boost mode, it tries to suction up the carpet, meaning that it's way too strong.
Depending on the pile of your carpet or rug, you might want to switch the roller brush on or off. Just bear in mind that when the roller brush is off, the LED light won't turn on to illuminate your path.
For the IKEA short pile rug in my living room, I turn on the roller brush and get to work. It excels at picking up pet hairs and crumbs (we eat off our coffee table, whoops!) from our rug. Otherwise, if you've got a spillage to clean (like crushed crisps) then you can turn on Boost Mode, just make sure that you open the air valve on the roller brush head. You will feel the strength of the suction.
I have a short pile Ruggable rug (opens in new tab) in my bedroom and when cleaning this, it's a similar case as the above. Because this rug is quite thin, it tries to eat it up. When cleaning the rug, I always make sure I am on normal mode and I turn the roller brush off. This doesn't light up my path, but it does mean I can go a little more seamlessly from my hard floor to the rug, and it definitely picks up every speckle of dust and dirt. I tend to turn on the roller brush when cleaning the part of the rug that's underneath my bed as it means I can see.
I don't have any carpets in my home, but I am set to get carpet in my spare bedroom soon, so I will use the Henry Cordless once this has been fit and I'll update this review with my verdict.
One thing to note is that on your first carpet/rug clean, you might find that you have to toggle around with a few different modes and settings to find the right one for your soft flooring type as there's not really a one-size-fits-all. As a reminder, the three things you want to play around with are: turn off Boost Mode, turn off the roller brush, and open the roller brush air vent.
Using the accesssories
The Henry Cordless vacuum comes with two accessories: a 2-in-1 Combi Tool and a Crevice Tool. I liked using both for cleaning different parts of my home. When using these tools, you can attach the extension handle to this vacuum for ease. This makes it easier for you to hold the vacuum and reach corners and smaller places.
You don't need to use the roller brush mode when using these tools, but you can use Boost Mode for a faster clean.
The 2-in-1 Combi Tool is actually quite clever. As the name suggests, it offers two tools in one. One is for targeting small spillages, or for cleaning upholstery, and the other has a brush for cleaning hard surfaces. I like to use the brush part of this tool for cleaning my TV unit, my shelving, and my dining table... you get the gist. The other side of the tool I use for cleaning my sofa mostly, as it's quite a wide head but it's shallow enough to offer decent suction to pick up pet hairs. Otherwise, it's really good if you've spilt something (like porridge oats) and you need to quickly clean it up.
The Crevice Tool is a tool that comes with most vacuum cleaners, so ordinarily, I use this one to clean my skirting boards, get into corners, and clean my velvet bed frame. It gets super dusty and this way I can get satisfying vacuum lines on it. This is also great for cleaning the dog's bed and for getting into corners to get rid of cobwebs.
These tools can be stored with ease on the wall mount, should you want to keep this vacuum hanging on your wall. In the box, there is also a packet of screws that is needed to attach the mount to a wall in your home. I am yet to do this but will update this guide once I've made a decision on where to mount it.
Battery life
The Henry Quick's battery life is somewhat impressive for a stick vacuum. At its least powerful, it can offer 70 minutes of battery life in total, after a 150-minute charge. Otherwise, see all battery timings depending on modes and features used:
Normal mode, brush off: 70 minutes
Normal mode, brush on: 55 minutes
Boost mode, brush off: 16 minutes
Boost mode, brush on:14 minutes
This vacuum cleaner will automatically turn off when it needs recharging, and you can check on its battery level by the red dotted lights on the control panel. The more lights on, the more battery it has.
When it comes to charging the Henry Quick, you can charge the vacuum's battery on its own or charge the actual vacuum. We prefer the former as it's a little easier, and that way we can store the rest of the vacuum away whilst charging. To re-insert the battery, it might take a few tries to get the knack, but you essentially just slide it back on.
How to clean the Henry Cordless Vacuum
Emptying the Henry Cordless vacuum is a breeze. In fact, thanks to the fact that it's bagged, it couldn't be easier. Simply pull the trigger on the front of the vacuum and the bottom will flip open. The pod should just slide into your bin or out onto the floor. Just make sure that the vacuum is detached from the stick before doing this.
Admittedly, when I discovered that this vacuum was bagged I was very disappointed. It's not the best option for the environment, and who wants to spend extra money on bags? Not me, that's for sure. But, after using this vacuum for several weeks, I definitely agree that a bag makes for less mess. It also makes it easier to use for faster jobs as you rarely have to worry about it being full. I used this vacuum so many times before having to empty the bag as it takes a surprising amount of dust and debris to get full. However, when it is full, it will alert you by turning the single light (opposite the power button) on the control, red.
The frustrating thing about having a bagged vacuum is that you can't see what's being collected, so there's no satisfaction in checking the dustbin to look at your hard work. On the flip side, this means you won't have to clean said dustbin ever, as it won't get dirty.
When it comes to the environment, which we really care about at Real Homes, it's worth us mentioning that Henry Pods are climate positive. They are made using 65 per cent recycled materials.
For anyone with allergies, small children, or sneezy pets, this vacuum cleaner seals all of the dust it collects so that when you empty it into your bin, you won't end up vacuuming around your bin afterwards. A cordless stick vacuum that's bagged is quite rare, so if you are keen on keeping the dust at bay for whatever reason, this vacuum is a pretty great contender.
Another unique selling point about the Henry Quick is that you can use it with scent capsules so that when you vacuum it leaves behind a nice scent. We're yet to test this part of the vacuum as there were no scent capsules included in the box, however, using them and changing them is a breeze.
At the very top of the vacuum, you'll see a round rubber part. Peel this back and in here there is space for you to drop a scent capsule. Replace the lid and get to work. Once you can no longer smell the scent, replace it!
Now, let's get into actually maintaining this vacuum. The roller brush couldn't be easier to remove and clean as it just pulls out. You just need to press the red button on the brush roll before you try and pull it out. I found it easier to just cut the hair that was wrapped around this brush with a pair of scissors. Then, you can slide it back in and you're set to go.
If you have long hair that often is falling out like me, you might want to make a point to clean this brush quite frequently (maybe every five uses) as it can get clogged pretty fast.
And that's it for maintenance! Easy stuff.
Is the Henry Cordless vacuum right for you?
If you are on a budget and you want to spend less than £300 on a new vacuum, then the Henry Cordless is brilliant. You're also buying from a well-known and trusted brand, which will give you more peace of mind when it comes to quality. You'll also, nine times out of 10, be able to buy replacement parts for this vacuum. Not to mention, the vacuum is great for flat owners and for larger households alike thanks to its 70-minute battery life. It can tackle pretty much any job, in our eyes.
More top vacuum picks

(opens in new tab)
If you want something bagless
The Shark ICZ300UKT vacuum comes in as our second-best vacuum cleaner, after the Henry Quick. This vacuum is bagless but still offers incredible suction power that you'd find in a corded model. We rated it five stars in a review on one of our sister brands.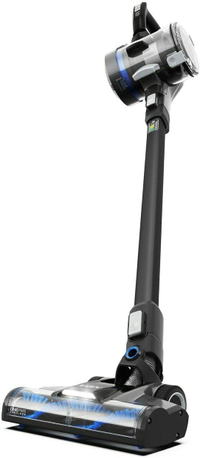 (opens in new tab)
If you want something cheaper
We tried and loved the Vax ONEPWR Blade 4. It retails at just £189.99. The 45-minute battery life is ideal and it's bagless, so you won't incur the extra cost for bags. We rated it 4.5 stars in our Vax ONEPWR Blade 4 review.
About Real Homes reviews
Annie tested this vacuum cleaner in her two-bedroom flat in South East London, over a six-week period. Annie used this vacuum to clean her living room, kitchen, bedroom, hallway, and bathroom, daily or several times a week. With laminate flooring throughout her home (except her tiled bathroom), Annie mostly used it on Boost Mode when doing a deeper clean. For her various rugs, she found the right mode and feature combination.